How have your holiday sales been?
Same as last year? Slightly down on last year? Best yet?
However successful they were, it's time to look ahead into 2016 and how best to grow and make sure 2016 is the best year yet for your business.
There are so many ecommerce growth trends you could use in 2016, but the key is to focus on what works!
To help you out I've outlined the best articles posted in the previous 12 months that will help you grow whatever tactic you choose in 2016.
Click on one of the below to discover the best articles on each topic:
[one_half_first]Content Marketing
Conversion Rate Optimisation
Email Marketing & List Building
Growth Hacking
Launching Ecommerce [/one_half_first][one_half_last]Mobile Ecommerce
SEO
Social Media
Analytics
Branding & PR [/one_half_last]

[thrive_headline_focus title="Ecommerce Content Marketing" orientation="left"]
Content marketing can make or break your online store, done right it can slingshot your revenue to levels you only dreamed of but done poorly and you can be doomed to mediocrity for years to come. Let's learn how to make sure you do it right…
Plenty of ecommerce blogs seem to struggle with ideas (and worse just post a few times and never again), Shabbir of Bootstrapping Ecommerce compiles a list of ideas for when you get stuck.
There are a mountain of challenges when taking the plunge into content marketing, fortunately Wordstream tells you exactly how to overcome the big issues.
Visakan Veerasamy of Referral Candy educates you with some real talk about content marketing and what it takes to make sure your content makes the cut in the cut throat world of ecommerce.
Avoiding problems is always better than having to deal with them once they have happened. Econsultancy has you covered on the content marketing front with this post.
Want some inspiration for your content marketing? Discover the 15 kings of ecommerce content marketing with this post.
Check out the advanced content marketing techniques from CrazyEgg – utilising dynamic & targeted content to beat your competition.
Listening to your customers is one of the most underused tactics in ecommerce in 2015 – discover how to learn more from the feedback you receive with this article.
Everyone needs new ideas and inspiration for content, with so much out there every extra idea could result in a really big win – find 7 more ideas with Hubspot.
Content marketing is a tricky subject, particuarly for ecommerce with most content being very salesy, learn how to education & inform your visitors with this post.
Content marketing, the 7th wonder of online marketing. Armando from Practical Ecommerce shows how humour should be included in your content efforts.
Case studies are always useful when learning new aspects of marketing & ecommerce. Econsultancy showcases 12 fantastic examples to get some inspiration.


[thrive_headline_focus title="Ecommerce Conversion Rate Optimisation" orientation="left"]
Once you have plenty of traffic small changes in your conversion rate and drive some serious increases in revenue – which is why this has become a crucial part of every ecommerce websites arsenal throughout 2015. Many stores are running multiple tests every week which has lead to exponential growth, learn how to split test like a pro with these posts…
There are always some blog posts that you read and they completely change your thinking on everything you do. This post from Neil Patel on Kissmetrics was one of them.
People can obssess about different metrics of their site way too much, Andrew from EcommerceFuel tells you why you shouldn't get hung up on your average conversion rates.
Got Grove showcases the current UI trends that will be staying around for a while, make sure you give your customers the best experience by reading this post.
Catalin from Ecommerce Platforms brings you a great infographic which shows you 17 ways to boos the conversion rates of your online store.
One of the many ways to increase your average order value is improving your product photography, showing off your products with the detail they deserve.
Constant testing is fundamental in any growing ecommerce business, Peep Laja helps you focus on the tests that will be more likely to win, and ultimately grow your business.
There is nothing worse than seeing your growth stall. Neil Patel outlines nine strategies that you may have not thought of before.
Your homepage probably gets a lot of traffic, but are you using it effectively? If you have a carousel then you REALLY need to read this post!
Stop people dropping out of your checkout process with this great post on Leadpages by Daphne Sidor.
Keir Whitaker explains exactly how to reduce your abandoned shopping basket rates on your online store.


[thrive_headline_focus title="Ecommerce Email Marketing & List Building" orientation="left"]
If you aren't utilising email marketing you are seriously missing out, and might need to re-evaluate your marketing tactics as a whole. Email marketing has been the bread and butter for most marketers for years and with such a high return on investment (up to $40:$1), you need this in your business! Discover how the experts are building their email lists and squeezing as much money from their subscribers as possible…
Lifecycle emails are the bread and butter, they are virtually a set & forget tactic that can drive thousands of returning customers having been set up just once. Vero have you sorted.
Pretty much the best email marketing post of the year, Jimmy Daly of Vero outlines the best practice you should be following, with examples!
Everett Sizemore guides you through the inbound lead generation process that is often the missing link in ecommerce marketing.
Building an email list is crucial for your online store, with your subscribers you can keep targeting them with specific deals, offers, promotions, education and more, so start building today.
Re-engaging your audience is crucial for a high retention business which can lead to exponential growth. Discover seven automated emails to help you grow.
Email deliverability is crucial with your email list, if you emails aren't being delivered you subscribers can't buy (duh!) so make sure you are brushed up on your skills.
Boost your sales with these fantastic tips from Marcus Taylor on Shopify with successful email marketing.
Pop ups can be really annoying, but exit intent pop ups are a craze which shouldn't affect the user until they go to leave your site – find out how to use them with this post.
Daniel Faggella from Marketing Profs shows you exactly how to use email marketing to get a surge in online sales, but can you handle them?
Magento kicked off 2015 with some incredible tips for email marketing success in 2015, a year on these tips are still 100% relevant.
Stealing' the best bits from the big guys in ecommerce is something every small business should be doing, most are easy to implement with modern email service providers.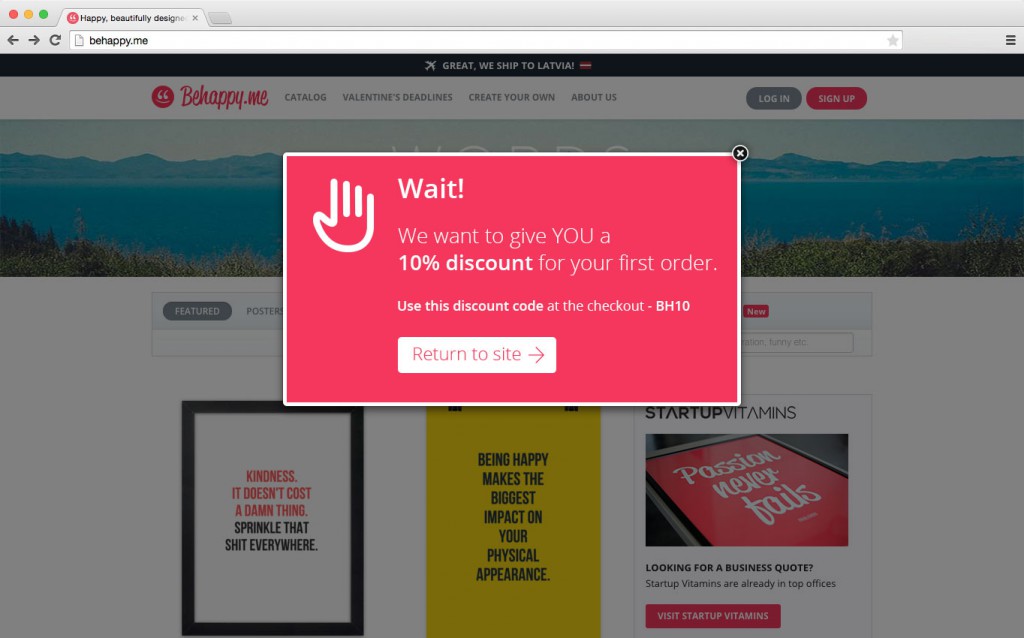 [thrive_headline_focus title="Ecommerce Growth Hacking" orientation="left"]
Hacking your growth is one of the most rewarding experiences of running your own site. Finding the game-changing tactic that launches your site to new levels of traffic can really make you jump for joy. Unfortunately it is rarely as simple as setting something up and hoping for the best, it takes lots of effort, even more testing, and more promotion than you ever thought possible to really make it work. Want some ideas? Check out these posts…
Referral campaigns are potentially incredibly viral, and Referral Candy are the top dogs in the referral space so check out their favourite examples how to grow your business.
Ivan Kreimer of Recieptful showcases three powerful growth hacks to increase your revenue in 2015 and beyond.
Increasing the often overlooked aspects of your online store is often easier than the more obvious parts. Try increasing your average order value with this post from Lemonstand.
Live chat is one of the best features of a website, it allows for a super-quick answers to customers questions and can really turn the needle on your conversion rates.
Want to grow your online business? This round up on Founders Grid has a whole wealth of incredible articles to quickly grow your store.
Gleam is an incredible tool, I remember when it was still just a competition based app, now it's a full fledged growth tool for ecommerce – check out these 25 ways to get the most out of it.
Marketing automation allows you time to spend on activities that can drive more traffic to your business in other methods, get started today!
Who doesn't love a growth hack? Quicker & bigger growth is the dream of every entrepreneur and this post gives you 7 great ideas for your online store.
Unboxing videos can create vast success for some companies, if your products lend themselves to this exciting new trend make sure you try them out.


[thrive_headline_focus title="Launching Ecommerce" orientation="left"]
Taking the plunge and launching your own store can be very rewarding, but often the fear is all too much for most. These articles will hopefully give you the inspiration you need to take your idea to the next level in 2016.
Launching an ecommerce business is a dream for a lot of people, and when exciting new developments happen that make it even easier it can get very exciting – check out how Amazon is helping new businesses.
Paymill's post on potential problems you'll face when starting an ecommerce business showcases the key questions you need to answer before you take the plunge.
There are so many niches to choose from when starting an online business, Darren from selfstartr asks the experts for their advice on choosing the best idea.
Holly from Pixc showcases the vast array of options to new ecommerce businesses from marketplaces to platforms and which ones you should go for.
Sabuhi Gard writes a simple guide on The Guardian about how to launch a successful ecommerce business, filled with plenty of great insight.
Ever wanted to start your own ecommerce store? Richard Lazazzera of A Better Lemonade Stand gives you more advice than you can handle for building, launching & growing a brand new ecommerce store.
Setting goals & focusing are key factors when launching a new ecommerce business. WP Curve shows you just how you can do it in just 30 days.
Choosing the right platform is crucial for launching your ecommerce business, and in 2015 there are plenty to choose from, discover the 10 most popular with this post.
Knowing what to ask when making a big decision, such as your ecommerce platform, is vitally important. Armando Roggio goes over the key questions for choosing your platform.
A stunning infographic detailing how you can make your first ecommerce sale after setting up your site on Entrepreneur.
Discover 5 secrets to running a successful ecommerce business from Thomas Smale of FE International on Entrepreneur.
Sam Edwards outlines nine simple tactics to ensure your new ecommerce business is incredibly successful.
If you want to set up an online store but don't have any money for stock, dropshipping could be a great way to go – learn how to create your first tshirt store with Shopify.


[thrive_headline_focus title="Mobile Ecommerce" orientation="left"]
A lot of online stores are now experiencing that their traffic is now more and more focused on mobile. The past few years has seen the need for a quality mobile experience become an essential element of every website and 2015 the trend continued, find out how to make the most out of your mobile website.
Linda Bustos knows how important the mobile shopper can be to ecommerce businesses, in this post she outlines 7 tips to target the mobile-only shopper.
Ecommerce has taken a bit jump towards mobile in 2015 – with more searches being undertaken on mobile than ever before. Recieptful show some methods to improve your mobile conversion rate.
50% of the battle on mobile is getting the customer through the checkout – learn how you can choose the best solution for your website.
April saw a BIG change from Google, for the first time ever mobile search results will focus on mobile friendly websites, discover what this means for your business.
There are many reasons for customers to leave your site on mobile, from pop ups to poor user experience, discover what they all are with this post from Econsultancy.
Improve your mobile product pages with these 19 must-have features from Graham Charlton.
Tracey Wallace dives deep into mobile commerce and shows that making your site responsive is just the beginning of what you should be doing.
Scott Gerber outlines the top mistakes many ecommerce businesses are making on their mobile websites.


[thrive_headline_focus title="Ecommerce SEO" orientation="left"]
SEO has the power to send hundreds and thousands of visitors to your site every month. It is not an easy discipline and doesn't offer instant results, however if performed right and to a high quality standard it has the ability to take your website to the next level and allow you increase your profit as the traffic is essentially 'free'.
When you want to learn about link building, go to where the experts are. I put this article together with 44 experts revealing their favourite link building tactics for ecommerce.
Neil Patel puts together a HUGE post on how to optimise your online store to keep the search engines happy and crawling your site.
Most ecommerce websites have common SEO problems, Erin Everhart uncovers the 5 key ones you really need to fix asap!
There are a lot of myths flying around about SEO, there are tactics from the 90's to some very broad generalisations – Chris Ebbs explains them.
Learn how to build 100% white hat links to your ecommerce site without the need for any content, have a product page? You can build links!
Checklists are awesome, they allow you to tick off everything you have done so you know exctly what is left and when you are complete. Check out this one on SEO for your site.
Links matter in SEO, there is no getting away from that. WooGuru puts together a pretty complete guide to building links to ecommerce stores of any size.
Large ecommerce stores will almost always have indexing issues, whether it's too many pages or too few pages – read this guide on inbound.org to fix your problems.
Get 100% actionable tips, not that usual fluff you read from this post featuring over 26 seo tips to improve your ecommerce site.
Duplicate content can be a killer to online stores, product descriptions are usually the prime suspect, don't fall into the same trap by reading this article.
Links, links and more links, we all want more of them (high quality prefered) – this post on Search Engine Land lets you know just how to attract those elusive quality links.
When starting a new ecommerce website it's hard to know where to start with your SEO efforts. Ecom SEO Academy put together a panel of experts to give you tips and tricks to get you started in the right direction.
Removing duplicate content from your online store should be done at the earliest possible moment. Read this post on Moz to discover some of the ways to fix your problems.


[thrive_headline_focus title="Ecommerce Social Media" orientation="left"]
There is plenty of 'what not to do' articles on social media, but these articles below show you where to focus your efforts in each channel you decide to target for your ecommerce site. With the right tools and knowledge, you can use social media to drive some serious traffic & sales to your site.
Richard Lazazzera shows you exactly how to jump on the Instagram train and generate a wealth of followers that are eagerly waiting for your next snap.
Knowing who is talking about your brand on social is one thing, knowing the sentiment of what they are saying is far more important, discover 23 tools from Practical Ecommerce to help with your social monitoring.
Peg Fitzpatrick shows you just how to manage your social media presence once you've made it big. How do you please over 11 million followers?
Facebook advertising has really taken off in 2015, this podcast from Austin explains exactly how to generate traffic & sales to your online store.
If you aren't on Pinterest, you are missing out! Learn from the big boys how to utilise one of the fastest growing platforms.
Darren DeMatas presents an amazing set of marketing tips for Instagram to grow your brand bigger & faster than you ever thought possible.
The single most impressive retargeting blog you you will probably ever read, not just in 2015. Daniel outlines in great detail exactly how to utilise the retargeting platform within Facebook to make some serious bucks.
Social advertising is an untapped resource for most niches, make sure to study this article in depth and start testing out the seven strategies on your online store.
Instagram is continuing to grow in popularity, and is the fastest growing social media platform in 2016. Make sure you don't miss out in 2016 with this introduction from Alaa.
2015 saw the introduction of Pinterest Buy Buttons – what could they mean for ecommerce?


[thrive_headline_focus title="Ecommerce Analytics" orientation="left"]
Knowing what you are looking at in Google Analytics is the basics of what you need to know for growing your online store. Customer lifetime value? Average order value? Conversion rate? To name just a few KPIs you should be tracking, learn about what to focus on with these articles…
Capitalising on your Google Analytics tracking can help your ecommerce business really grow
Ever wondered exactly what metrics you should be tracking? Alan Coleman's post on Moz goes over the KPIs every ecommerce store should be watching.
There are hundreds of metrics you can track as an online store, but which ones should you focus on? Well find out with this post…
Google Analytics is a must for every website not just ecommerce businesses, this post from Mavenec show you the hidden gems that can help you improve your sales.
Trigg Taylor goes over the most innovative analytics tools for your online store to learn the most about your visitors & customers.
For anyone struggling with Google Analytics, Patricio Robles gives you some great tips for beginners – a great starting point!
Learn more about your business than you ever thought you could know with this article from Econsultancy.
RJMetrics know their stuff when it comes to ecommerce growth, find out where your business fits on the growth spectrum with this post from Janessa Lantz.

[thrive_headline_focus title="Ecommerce Branding & PR" orientation="left"]
Building a brand is the dream of most ecommerce entrepreneurs, imagine being in charge of a brand that becomes a household name. Getting coverage from newspapers and magazines forms just the basics of what is required to build a large brand, discover all the other aspects you need to look at with these articles…
Beardbrand was the success story of 2015, capitalising on the beard growing trend with a variety of products to keep them in check – learn how they did it here.
Setting up your own ecommerce store is easier than you think – discover how to do it with Shopify in just 3 days!
Branding is crucial for growing your business, having a set of brand guidelines is a fundamental part of any ecommerce store as it forms the basis of everything you stand for. Richard Lazazzera shows you how to create it.
Getting press coverage is what every new ecommerce business strives for, fortunately Tracey Wallace at BigCommerce has you covered with this post.
Beardbrand posted about their business story on Reddit – it exploded and they answered hundreds of questions about their success – check them out here.
Beating your competition is what everyone wants to do, Tucker Schreiber gives you five strategies to position yourselve above your competition.
Creating a brand is one thing, creating a trustworthy brand is something else, it takes time, effort and a lot of planning – find out more with this post.
Is the press release a dying tactic? Whether you think so or not, TrueShip features exactly how to write a press release to get your ecommerce business some valued attention.
What Now?
Well if you haven't already, add all of the above to your bookmarks and make sure you read them all!
What have been your favourite blog posts of 2015? Let me know in the comments below.